Fire Resistant CONVEYOR BELTS
Flame Retardant Conveyor Belts
RUBBER COVER GRADE QUALITIES
Cover qualities perform well beyond the minimum requirements of the international standards mentioned in the table
below and comply with REACH regulation. Cover qualities are an-static according to EN ISO 284 and are extensively
ozone tested in compliance with EN ISO 1431 ozone resistance (50 pphm, strain 20%, 96 h no cracking) in order to avoid premature
failure due to cracking of the belt surface.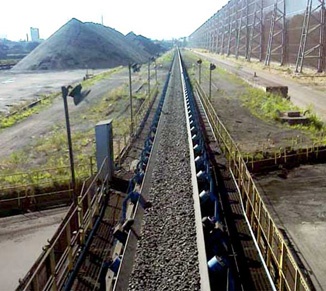 Fire Resistant Conveyor Belts
Fire Resistant Conveyor belts have steel cord conveyor belt and PVC PVG conveyor belt for used in up and down the pit. And self-extinguishing designs prevent fires from spreading over the entire belt. Heat-resistant designs protect the belt from attack by hot materials that could otherwise reduce its service life.
BASIC MATERIALS
Code      Rubber type                                      Code             Rubber type
NR          Natural Rubber                                EPDM          Ethylene-Propylene Rubber
SBR        Styrene-Butadiene Rubber              CR                 Chloroprene Rubber
NBR        Nitrile Rubber                                  CSM              Chlorosulfonated Polyethylene
Monster Belting Offers Flame Retardant conveyor Belts
Suitable for conveying any material that require a flame resistant platform for transportation, the belts offered by Monster Belting offer long-distance conveying and a long-service life. Ideal for power, chemical and metallurgical industries among others, we ensure this self-extinguishing design for safe use. Browse below to know more about this product.