HEAT RESISTANT CONVEYOR BELTING

Heat Resistant conveyor Belts from Monster Belting
Monster Belting offers uses heat resistant material for the production of their conveyor belt to ensure long-term functionality and durability. Ideal for use in cement plants as well as for the chemical industry among others, the anti-tear material ensures a firm mode of transportation for products. Browse below to know your options.
Specification
Cover rubber: EPDM rubber or chlorobutadiene rubber.
Carcass: polyester cloth or cotton cloth.
According to client's request, we can make endless belt.
Note: 
T1 able to bear not more than 150°C of test temperature.
T2 able to bear not more than 250°C of test temperature.
T3 able to bear not more than 350°C of test temperature.
T4 able to bear not more than 400°C of test temperature.
The heat-resistant conveyor belt carries out the GB/T20021-2005 standard.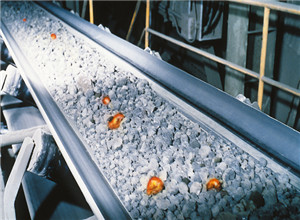 Structure of the Heat Resistant Conveyor Belt:
The anti-tear carcass material of the heat resistant conveyor belts can be multi-ply fabric canvas, like NN nylon canvas and EP Polyester canvas, and steel wire rope reinforcement, matched with top and bottom rubber covers, and finished through the processes of calendaring, firming and vulcanizing, etc. The top rubber cover is of SBR compound or EPDM compound with very good abrasion resistance and heat resistance performance.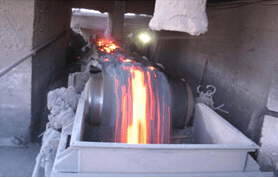 Specification
1.Fabric: EP CC NN
2.Width: 600MM-2400MM
3.Thickness:4-50mm
4.Tensile Strength: 6MPA-25MPA
5.Abrasion resistant: 90MM3-250M
Features:
The carcass of this product has very high adhension after the special treatment of coating. Under normal working temperature of below 180°c, the belt is low in elongation,excellecnt in anti-abrasion, and can bear 250°c high temperature for a short time.
Material Types and Belt Surface Temperatures

Materials Carried

Lump Size

Temperature of Materials Carried

Belt Surface Temperature

Sintered Ore

25~200mm

(1~8 inch)

*200~400ºC

130~150ºC

Return of Sintered Ore

below 10mm

(0.4 inch)

260ºC

150~190ºC

Coke

100~200mm

(4~8 inch)

70~100ºC

50~60ºC

Raw Material

below 30mm

(1.2 inch)

180~220ºC

100~120ºC

Clinker

10~30mm

(0.4~1.2 inch)

100~220ºC

100~110ºC

Cement

Powder

100~250ºC

80~90ºC

Metal Powder

-

170ºC

120~130ºC

Moldings

-

200~250ºC

80~90ºC