Corrugatedsidewall conveyor belts with Cleat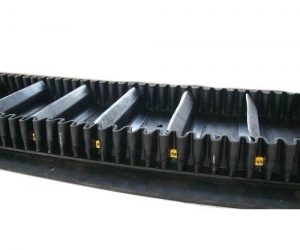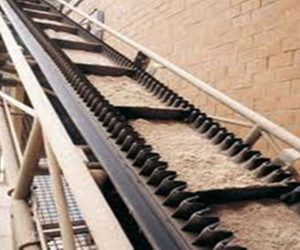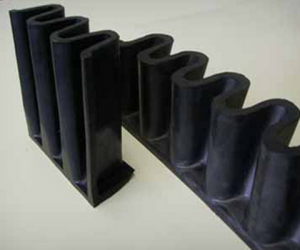 Description:
1.Standard: HG/T4062-2008 for sidewall conveyor belts
2.combined by secondary sulfur method,soft strong ,no degumming
3.0-90 angle choosable ,transfer quantity 1 to 6000 cub meter/h avaliable.
sidewall conveyor belts Unique hydraulic punching technology
The traditional sidewall conveyor belts with steel cord first adopts the form of electric drill to open the hole to the tape. Because the manual operation often makes the hole distance and aperture error of the hopper hole of the hoist! To the later installation caused great trouble! Increase the cost of human and material resources a lot! Monster belting company for many years to focus on the research and manufacture of sidewall conveyor belts. With a state-owned machinery company to develop machine forging press punching hole! And apply for the national patent on the punch die! Use machine forging press hole to make a row of hopper holes in one time! Reduce the difference between the hoppers! At the same time, it produces about 500 tons of impulse at the same time. Make the wire rope core lift with no burr! The belt has been fully washed through! The installation time is greatly saved for the customers! Many years have been well received by the customers!
Advantages:
1. low maintenance cost
2. Large transport capacity, and it can avoid material spilling effetely
3. The belt can facilitate switching from horizontal to inclined conveying
from inclined to horizontal conveying
4. It saves a lot space as it allows material conveying at 0°-90°
Technical Data for Sidewall Conveyor Belt    
Base Belt Width B(mm)
Sidewall Height H(mm)
Cleat Height H1(mm)
Bf(mm)
Br(mm)
R(mm)
300
40
35
25
180
35
60
55
50
120
40
80
75
400
60
55
50
180
60
80
75
100
90
500
80
75
50
250
75
100
90
120
110
650
100
90
50
350
100
 
120
110
 
160
140
75
300
 
800
120
110
50
460
120
160
140
75
410
200
180
1000
160
140
75
550
150
200
180
240
220
1200
160
140
75
690
180
200
180
240
220
300
280
105
630
1400
200
180
75
830
210
240
220
300
280
105
770
400
360
1600
200
180
75
970
240
240
220
300
280
105
910
400
360
1800
240
220
75
1110
270
300
280
105
1050
400
360
500
460
125
1010
Mining Coal Industry Multy-ply Rubber EP conveyor belt
Total Tensile Strength
Fabric Type
Top Cover Thickness
Bottom Cover Thickness
   ( N/mm)
(mm)
(mm)
200-800
EP100
3.0/4.5/6.0
1.5/3.0
315-1250
EP150
3.0/4.5/6.0
1.5/3.0
400-1500
EP200
3.0/4.5/6.0
1.5/3.0
500-2000
EP250
3.0/4.5/6.0
1.5/3.0
500-2000
EP300
3.0/4.5/6.0
1.5/3.0
630-2500
EP400
3.0/4.5/6.0
1.5/3.0
Rubber Cover Property:
Item
                         Rubber grade(DIN22102)
W
X
Y
Z
Tensile Strength
(N/mm2)>=
18
25
20
15
Elongation at break(%)>=
400
450
400
350
Abrasion
(mm3)<=
90
120
150
250
 Packaging detail:
(1) PP waterproof cloth+Steel core+ Side plastic sheet
(2) Can be packed as per customer requirement
(3) Usually can load 10-20 rolls into one 40HC container
(4)Delivery time: within 15-30 working days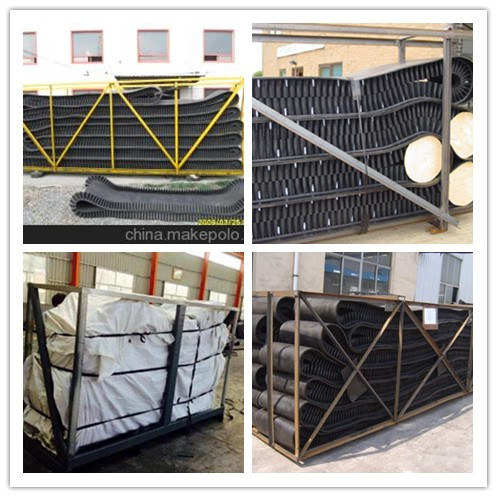 raw materials workshop
Cover Rubber: There are natural rubber, chloroprene rubber, shunding rubber, isoprene rubber, butadiene rubber, ethylene propylene rubber, reclaimed rubber, etc
Sidewall conveyor belts main varieties are SBR and BR. The conveyor belt is based on steel wire, polyester and nylon, and aramid has not been used on a large scale
芳纶尚未大规模应用