Cold Resistant Conveyor Belts
Cold Resistant Conveyor Belts Technical Indexes
Cold Resistant Conveyor Belts can be divided into three types according to the properties of cover: Laceration resistant(H), Anti-abrasion type(D), and ordinary type(L).
2. According to the different cold resistance, it can be divided into two types of C1 and C2: C1-Working temperature:-45~+50°C; C2-Working temperature: -60~ +50°C.
Cold resistant conveyor belts, the product features: selects cotton canvas, nylon canvas or polyester canvas for belt core, cover rubber with natural rubber and butadiene rubber and rubber, high elasticity, impact resistance, cold resistance and other characteristics, to 40 ℃ below zero under the environment of normal use.
Cold Resistant Conveyor Belts
Cold resistant conveyor belt is covered the surface of the rubber used ordinary natural rubber and butadiene rubber mixture mixing rubber, has the very high elasticity and cross crack resistance, as everybody knows, in low temperature environment, any object will become hard, brittle, and is very vulnerable, while cross crack resistance of cold resistant conveyor belt can guarantee long life.
While the elastic height will directly affect the use of items, physical principle of heat bilges cold shrink is known, in low temperature, cold resistant conveyor belt of high elastic made after short conveyor belt, can also with elastic and does not affect the use.
Today's cold-resistant conveyor belts, even at -40 degrees, can be used and worked properly.
Not because of the winter's effects but normal outdoor work.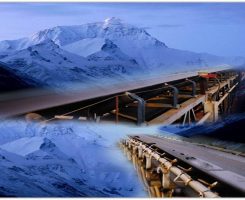 Product Characteristics:
The product selects cotton canvas, nylon canvas or EP canvas as carcass. Rubber cover selects a blend of NR and BR, which has the properties of high elasticity, shock resistance, cold resistance etc. It can work normally under the conditions of -40°C.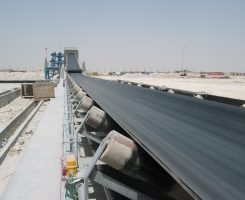 Cover Rubber:
NR, BR, blended
Properties: high elasticity, shock resistance, cold resistance etc
Usage: suitable for conveying materials outdoors in freezing area, cols storage etc.
Temperature:-45-+75°C